MakeupPlus is an innovative app designed to elevate your beauty game with just a few simple touches. Backed by collaborations with top makeup artists and photographers, this app offers a seamless experience for trying out new looks and creating your own signature style.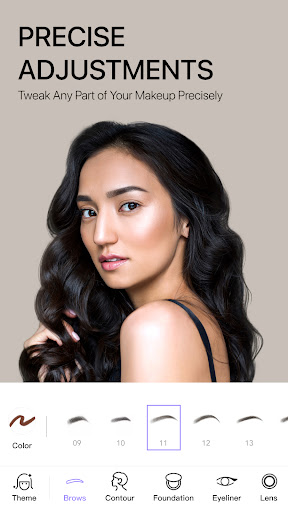 App Features:
1.Exclusive Looks Crafted by Industry Experts
Discover a collection of exclusive makeup looks curated by renowned professionals in the beauty industry. From the artistry of Bretman Rock to the expertise of Nikkie Tutorials, Lisa Eldridge, Christen Dominique, and Angel Merino, commonly known as Mac Daddyy, MakeupPlus brings you the crème de la crème of makeup artistry. With their exclusive looks, you can easily channel the glamour of these makeup maestros right from your phone.
2.Mix and Match with Fun Accessories
Unleash your creativity with the power of the MakeupPlus AR camera, allowing you to experiment with various full-face makeovers and playful accessories. Explore a multitude of looks ranging from the sweet allure of "Bella" to the whimsical charm of "Brazen," or venture into the sultry vibes of "Porcelain." Mix and match these looks effortlessly, creating your own unique style that reflects your personality and mood.
App Highlights:
1.Express Your Individuality with Touch-Ups
Let your inner makeup guru shine through as you curate your signature look using the Touch-Up feature. Explore a spectrum of bold colors, from vibrant hues to subtle tones, and experiment with diverse makeup touches that will elevate your selfie game. Embrace the hottest hair color trends, be it the enchanting allure of "Cotton Candy," the fiery warmth of "Sunset," or the mystic charm of "Icy Blue." Further, enhance the allure of your eyes by seamlessly trying on a myriad of colorful contact lenses with the app's easy applicator.
2.Real-Time Product Trials with the COUNTER Feature
Make informed makeup purchases effortlessly with the COUNTER feature, which allows you to virtually try on products from an array of popular brands. Whether it's Charlotte Tilbury, GLAMGLOW, Stila, Clarins, NARS, Dior, or more, MakeupPlus lets you visualize how these products complement your features in real-time. Excited about a particular product? Simply add it to your cart with a single tap, and make it yours instantly, all within the app's seamless interface.