Transform your device's display with stunning designs and vibrant AI-generated backgrounds. This app offers a wide range of options to personalize your device's home and lock screen, providing a seamless and visually appealing experience.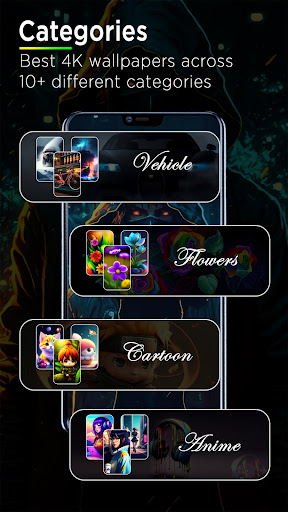 App Features:
1.Collection of eye-catching, vibrant backgrounds: The app boasts a diverse collection of AI-generated wallpapers that are visually appealing and designed to make your device stand out.
2.Easy access, viewing, and saving to the Gallery: The app simplifies the process of downloading wallpapers, allowing users to effortlessly access, view, and save their favorite designs directly to their device's Gallery.
App Highlights:
1.Emphasis on simplicity for improved user experience: The app prioritizes simplicity in both setting wallpapers and browsing through the available options. This focus on user experience enhances the overall performance of the application.
2.Collect and organize wallpapers with a single click: The Favorite Option allows users to gather their preferred wallpapers in one place with a simple click. This feature streamlines the process of using and managing selected wallpapers.
In Conclusion:
The AI Generated Art 4K Wallpaper App combines functionality with aesthetics, offering users a seamless experience in personalizing their device's display. With its diverse collection of AI-generated wallpapers, easy-to-use features, and a focus on user experience, this app stands out as a valuable tool for anyone looking to enhance the visual appeal of their device. Whether you're a fan of vibrant and dynamic backgrounds or prefer more subtle and elegant designs, this app provides a wide range of options to suit every taste. Download the AI Generated Art 4K Wallpaper App today and elevate your device's visual aesthetics to a whole new level.