ColorPop is an innovative coloring game app that allows you to unleash your creativity and express yourself through a range of stunning and intricate artworks. The app offers a unique AI drawing generation feature that generates amazing artworks in a matter of seconds based on a few keywords or prompts.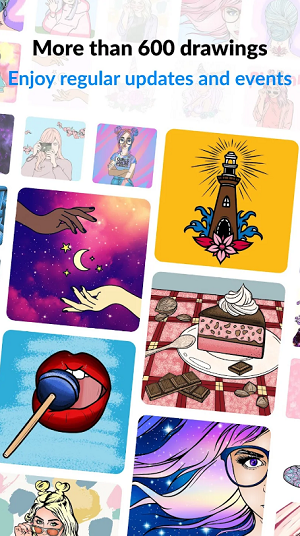 App Features:
1、Social Media Sharing: It's easy to save and share your colorings on social media platforms like Facebook and Instagram. With just a few clicks, you can show off your coloring book and artistic skills to your friends and family and spread joy.
2、Fun and Engaging: ColorPop is the perfect app for anyone looking to take a break from their busy lives and tap into their inner artist. The app engages you in a fun and immersive experience that encourages you to express yourself creatively and relax.
3、Family-friendly: ColorPop is suitable for people of all ages, so the whole family can enjoy coloring together. Download ColorPop today and experience the joy of creating beautiful artworks anytime, anywhere!
App Highlights:
1、800+ Adult Coloring Pages: The app has a vast collection of coloring pages designed specifically for adults, including intricate mandalas, beautiful paintings of landscapes, cute animal illustrations, and famous characters. With over 800 coloring pages, there's something for everyone.
2、Complete Coloring Tool Kit: ColorPop offers a wide range of useful and intuitive tools to help you create stunning and unique coloring books. Experiment with different colors, gradients, and shades, choose from a variety of brush sizes and textures to bring your vision to life.
3、Mindfulness and Relaxation: Coloring has numerous health benefits, such as reducing stress and anxiety levels, improving focus and concentration, and promoting mindfulness and relaxation.