Hit & Run: Solo Leveling offers an exhilarating and unique gaming experience, blending intense action with strategic decision-making. As the stickman warrior, your mission is to save a besieged town from menacing monsters. Armed with a pair of blades, you must navigate through challenging levels, defeat enemies, and confront epic bosses to emerge victorious.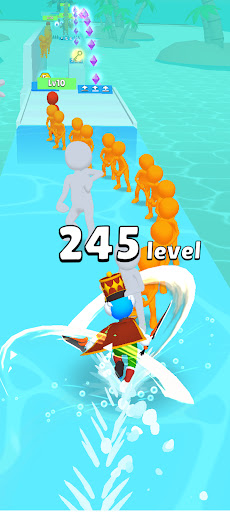 Game Features:
1.Engage in fast-paced, action-packed gameplay where every move counts.
2.Execute powerful hits, slaps, and slashes with a simple swipe mechanic that keeps the adrenaline pumping.
3.Unleash the true potential of your stickman warrior by leveling up with each successful defeat.
4.Strategically choose opponents based on your current level to progress efficiently.
5.Encounter a diverse range of obstacles, including enemies, traps, and tricks, as you traverse through the game.
6.Navigate through challenging terrains, making decisions that impact your journey.
Game Highlights:
1.Nothing can stand in your way as you swipe through obstacles, showcasing your skills and determination.
2.Master the art of swiping to overcome challenges and emerge victorious.
3.Make smart decisions to tackle enemies and obstacles effectively, ensuring a smooth progression.
4.Choose your battles wisely, as not all encounters can be defeated at every stage of your journey.
5.Discover mysterious portals that offer shortcuts or provide valuable gems to accelerate your leveling process.
6.Explore various elements in the game and use portals strategically to gain an advantage.
In Conclusion:
Hit & Run: Solo Leveling stands out as a runner game that seamlessly combines action and strategy. The game's swipe-based controls make it accessible to players of all skill levels, while the leveling system adds a layer of depth and progression. The inclusion of various obstacles, strategic choices, and epic boss battles ensures a well-rounded and engaging gaming experience.
In summary, this game promises a captivating adventure for players who seek a unique and challenging mobile gaming experience. Embark on the journey, level up, and become the stickman hero the town needs!