Welcome to the serene world of Healing Pocket, an idle healing game that offers a delightful escape into a realm where cute animal friends frolic and thrive. Immerse yourself in the joy of decorating your own pockets, inviting friends to join, and creating heartwarming memories in this charming universe.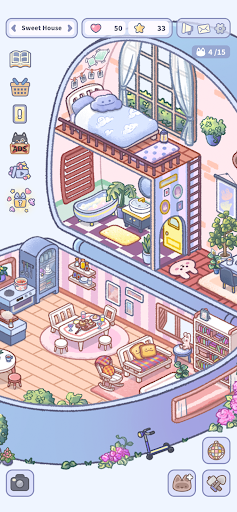 Game Features:
1.Encounter a diverse cast of irresistibly cute animal characters, each with its own unique personality and charm.
2.From playful puppies to wise old owls, the game brings together a variety of animals to befriend and cherish.
3.Unleash your creativity by decorating your pockets with an array of charming items and accessories.
4.Customize the spaces to reflect your personal style, creating a haven that radiates warmth and positivity.
5.Invite friends to join your Healing Pocket and share the joy of this tranquil oasis.
Game Highlights:
1.Collect hearts from your friends to unlock new pockets and interiors, fostering a sense of community and camaraderie.
2.Embrace a slow-paced gaming experience that encourages relaxation and mindfulness.
3.Unlike fast-paced games, Healing Pocket allows you to enjoy the process of pocket decoration and social interaction at your own leisure.
4.Build enduring memories with your animal friends as you navigate the enchanting landscapes of Healing Pocket.
5.Cherish the moments of interaction and affection between you and your virtual companions.
In Conclusion:
Healing Pocket is more than just a game; it's a journey into a world of tranquility, friendship, and creativity. With its endearing animal characters, customizable pockets, and emphasis on social interaction, the game stands out as a haven for players seeking a respite from the hustle and bustle of everyday life. Whether you're a devoted animal lover, an aspiring interior designer, or simply someone looking for a peaceful gaming experience, Healing Pocket invites you to immerse yourself in a world where cute companionship and creative expression reign supreme.