If you've ever found yourself captivated by the allure of building empires, delving into historical events, and strategizing your every move, then Game of Empires: Warring Realms (GOE) is the game you've been dreaming of. This immersive strategy game offers a rich and dynamic experience where players can choose a civilization, establish and develop their empire, recruit historical legends, and engage in epic campaigns.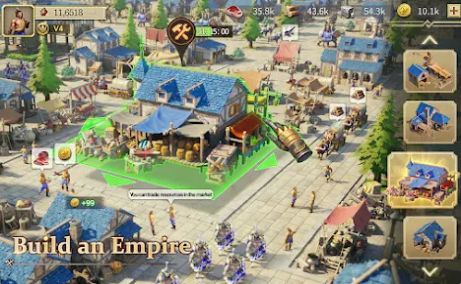 Game Features:
1.At the onset of your journey, immerse yourself in the diversity of several civilizations, each with its unique set of buildings, soldier types, and buffs. This choice shapes the trajectory of your empire, allowing for varied gameplay experiences.
2.Survival in GOE requires more than just conquering. You must recruit villagers, construct farms, and delve into technological advancements spanning different eras. Face the challenge of crushing barbarian threats while fostering diplomatic ties with other civilizations. Will you choose peaceful alliances or embark on ruthless military ventures to expand your empire?
Game Highlights:
1.Take the reins of history by recruiting legendary figures such as Julius Caesar, Genghis Khan, and Joan of Arc. These iconic leaders become instrumental in your quest to forge a mighty empire. Experience well-orchestrated epic campaigns that transport you back in time, offering insights into the tactical decisions that defined their successes.
2.The inclusion of time travel in epic campaigns adds a fascinating dimension to GOE. Immerse yourself in pivotal moments of history, witness legendary battles, and learn from the tactical brilliance of historical figures. The game seamlessly weaves education and entertainment.
In Conclusion:
In the vast realm of strategy games, Game of Empires: Warring Realms stands out as a captivating and immersive experience. Its blend of strategic depth, historical narratives, and diverse gameplay options provides players with a unique and personalized journey. Whether you dream of diplomatic triumphs or military conquests, this game invites you to carve your path through the annals of history, making it a must-play for strategy enthusiasts and history buffs alike. Embark on a journey, shape an empire, and leave your mark on the world in Game of Empires: Warring Realms.