Disney Heroes: Battle Mode is a thrilling and action-packed strategy RPG game that invites players to embark on an epic adventure alongside their favorite Disney and Pixar heroes. Set in a digital world overrun by a malevolent virus, this game offers a no-holds-barred experience where you must assemble a dream team of over 100 beloved characters and save the day.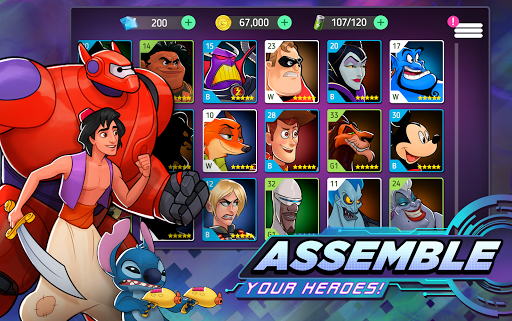 Game Features:
1.An All-Star Cast: Disney Heroes: Battle Mode brings together an impressive roster of Disney and Pixar heroes from various universes. Join forces with characters like Wreck-It Ralph, Vanellope von Schweetz, Elastigirl, Aladdin, Elsa, Buzz Lightyear, Mickey Mouse, and many more. The sheer diversity of characters creates endless possibilities for team combinations and strategies.
2.Engaging Storyline: The game's narrative is both immersive and entertaining. It centers around Wreck-It Ralph and Vanellope's discovery of a mysterious RPG game within a chaotic digital city. As you progress, you'll encounter other iconic heroes who need your help to battle the virus and its corrupted versions of well-known characters.
3.Strategic Gameplay: Disney Heroes: Battle Mode is more than just a button-mashing game. Strategy is key as you assemble and upgrade your hero lineup, equipping them with powerful gear and abilities. You'll face an array of enemies, including creeps, robots, ninjas, mages, monsters, and skeletons, each requiring a different approach. The strategic depth keeps the gameplay fresh and challenging.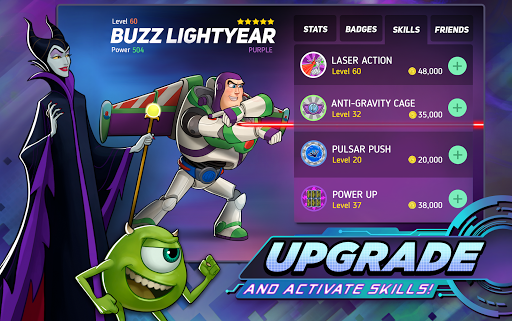 Game Highlights:
1
1.Multiplayer Action: Collaborate with other players to take on cooperative attack missions and participate in special strategy campaigns. Form alliances with suitable guilds to compete in multiplayer battles. The social aspect of the game enhances the experience as you work together to overcome challenges.
2.Marketplace and Trading: Disney Heroes: Battle Mode incorporates a trading system for hero chips and badges, allowing players to collect and exchange resources. This adds an extra layer of engagement and community interaction as players collaborate to strengthen their heroes.
3.Stunning Graphics: The game's visuals are a feast for the eyes. The digital world is beautifully designed, capturing the essence of various Disney and Pixar universes. The attention to detail is remarkable, making every character and location feel authentic and magical.