MapleHeroes-IdleAdventure is an adventurous mobile game with an infinite world full of fun and imagination where you will encounter talking mushrooms, strong cow-headed traders, and even the supreme dragonborn.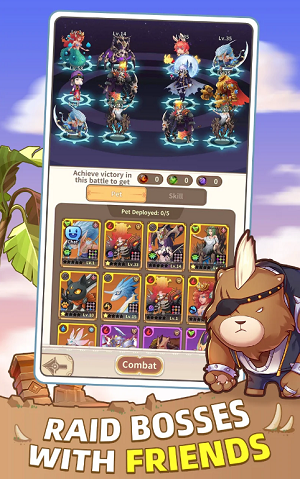 Game Features:
1、Fantasy World: In Maple Heroes - Idle Adventure, players enter a world full of fun and imagination, inhabited by talking mushrooms, strong cow-headed traders, and even supreme dragonborns. However, this joyous world is also home to evil forces that must be defeated.
2、Variety of Classes: The game offers four classes to choose from - Knight, Ranger, Mage, and Priest. There is also a variety of funny bosses to challenge, such as Flytrap, Mushroom King, Flash Chilopod, and Aeria. Keep an eye out for new heroes to join the journey.
3、New Team Idle Gameplay: Players can try out new multiplayer cooperation gameplay in Maple Heroes - Idle Adventure. Team up with other players, complement classes, and use strategic deployment to increase the chance of clearing levels.
Game Gameplay:
1、Magical Pets: The game offers hundreds of magical pets that players can summon through free draws. Players can refine useless cards, extract useful skills, customize their pet, and match bingo effects with their skill to double their attack. Unlock even more beautiful and cool pet appearances through pet evolution gameplay.
2、Personality Fashion Workshop: Players can design a unique customized appearance with hundreds of fashion items available in their personal closet. Mix and match hairstyles, makeup, clothes, and accessories to show off creativity and become a fashion expert.
3、Various Skill Combinations: The game breaks the common settings with various skill combinations. For example, Knight is not just for defending, and Ranger is not just for solo play. Try out Burst DPS Knight, Summon & AOE Mage, DPS Priest, and other unique combinations to enjoy different routes of cultivation.