Embark on a magical journey in the enchanting realm of Guild of Heroes, where old-school action RPG adventures come to life. Immerse yourself in a world filled with medieval cities, dark dungeons, and mythical creatures.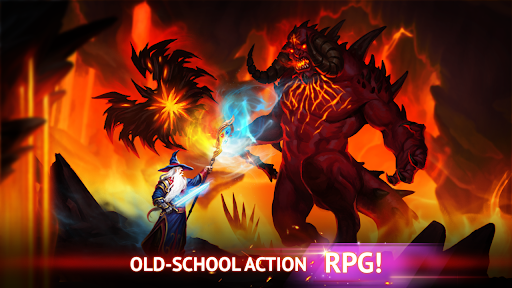 Game Features:
1.Guild of Heroes offers an immersive and visually stunning game world. Dive into a magical realm where medieval landscapes, vibrant cities, and ominous dungeons await exploration. The impressive graphics enhance the overall gaming experience, making every quest and battle visually captivating.
2.Choose your path and become a heroic wizard, skilled archer, or mighty warrior. The game allows you to interchange character classes at any time, providing a dynamic and customizable gameplay experience. Equip yourself with powerful weapons and armor as you progress through the adventure.
3.The journey is not just about exploring dungeons and completing quests; Guild of Heroes introduces intense player-versus-player (PvP) battles in the arena. Challenge other teams and prove your skills in strategic combat. Engage in epic Guild Wars controlled by real players, adding a competitive edge to the magical world.
Game Highlights:
1.Unleash your creativity and craft medieval weapons and armor in hundreds of combinations. The crafting system adds a layer of depth to the gameplay, allowing players to tailor their equipment to their preferred playstyle. Experiment with different combinations to enhance your character's strength and resilience.
2.Prepare to face a myriad of monsters, from immortal diabolic exorcists to mysterious and surprising foes. The game keeps you on your toes by introducing a wide variety of adversaries, ensuring that each encounter is a unique and challenging experience. Explore dungeons, raid dragon's dens, and conquer the dark caves that hide formidable enemies.
3.The adventure unfolds through a series of engaging quests and raids, providing a rich storyline that keeps players hooked. Whether you're exploring medieval cities or delving into dark dungeons, the game offers a diverse range of challenges and adventures. Navigate through the narrative, uncover secrets, and face epic battles against powerful foes.