Are you ready for the most exhilarating 3D racing adventure on your mobile device? Look no further than Scoot Rush! This game is your ticket to the adrenaline-pumping world of high-speed racing, offering a perfect blend of fast-paced action, strategic shortcuts, and the thrill of outsmarting competent rivals.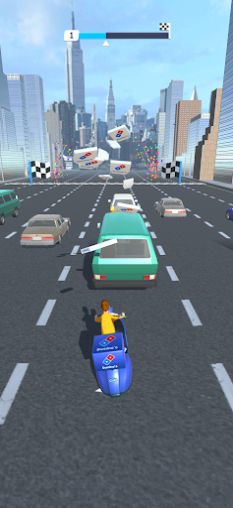 Game Features:
1.Scoot Rush distinguishes itself by placing you on the sleek seat of a scooter, promising more thrilling moments than traditional vehicles like cars, bikes, or motorcycles. Feel the wind in your hair as you race ahead, experiencing the rush of a car race like never before.
2.Immerse yourself in the fast-paced world of high-speed racing. Keep your finger on the screen to accelerate your scooter and compete with other players in a heart-pounding race to the finish line. The intuitive controls make it easy for players of all skill levels to enjoy the game.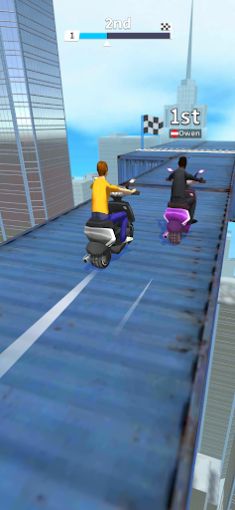 Game Highlights:
1.Scoot Rush takes racing beyond mere speed. The game encourages strategic thinking as you navigate the tracks. Finding shortcuts is not just a bonus – it's a key element to securing victory. Jump onto the track to discover hidden paths and outmaneuver your opponents.
2.Stay on your toes! Scoot Rush introduces dynamic obstacle challenges that can appear at any time and anywhere on the track. Dodge, weave, and maneuver your way through unexpected hurdles to maintain your lead. This adds an extra layer of excitement and unpredictability to the gameplay.
In Conclusion:
Scoot Rush delivers the ultimate 3D racing experience on mobile devices. With its unique focus on scooters, strategic gameplay, and dynamic challenges, the game stands out in the crowded racing genre. Whether you're a casual gamer or a seasoned racer, Scoot Rush offers an immersive and thrilling adventure that will keep you coming back for more. Are you ready to feel the rush? Download Scoot Rush now and become the master of high-speed scooter racing!