Little Panda's Cake Shop is a delightful cake cooking game designed for kids, featuring vibrant 3D graphics and user-friendly controls that simulate the experience of baking real cakes. Immerse yourself in the world of sweet treats as you run your own cake shop, becoming a skilled cake maker and building your bakery empire. The game promises an engaging blend of cake baking, creative decoration, and enjoyable cake sharing experiences.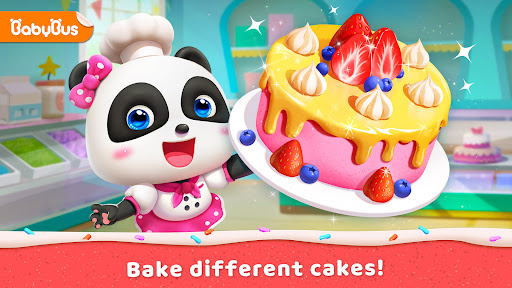 Game Features:
1.Diverse Desserts: Explore the culinary world with seven types of desserts, ranging from classic puddings to mouthwatering strawberry cakes and cream cakes.
2.Abundant Ingredients: Unlock your creativity using 22 different ingredients, including essentials like eggs, flour, butter, and cheese.
3.Comprehensive Tools: Equip yourself with a variety of cake baking tools such as shaped baking pans, ovens, beaters, and more, ensuring a realistic and immersive baking experience.
Game Highlights:
1.Customization Galore: Personalize your cake shop with over 20 different styles using colorful tablecloths, chairs, cups, teapots, and other decorative items.
2.Express Yourself: Let your imagination run wild and showcase your unique taste by transforming the cake tasting area into a visual feast of colors and designs.
3.Joyful Gatherings: After successfully baking a cake, invite friends over and share the freshly baked delights with them, creating memorable and heartwarming moments.
4.Unforgettable Memories: The game emphasizes the value of friendship and the joy of shared experiences, making every shared dessert a part of your cherished memories.
In Conclusion:
Little Panda's Cake Shop is more than just a game; it's an interactive and creative journey into the world of baking and friendship. With its diverse desserts, extensive ingredient options, and the ability to customize and share, the game captures the essence of joyful baking experiences. The combination of engaging gameplay, colorful visuals, and the opportunity to build a bakery empire makes it a must-try for kids and those young at heart. Dive into the sweetness of Little Panda's Cake Shop and embark on a delightful adventure in the world of virtual confectionery!