One-Punch Man: Road to Hero 2.0 is an officially licensed mobile idle strategy card game that brings the world of the popular One-Punch Man anime and manga series to life. With its unique features and gameplay elements, it offers a thrilling gaming experience for fans of the series and newcomers alike.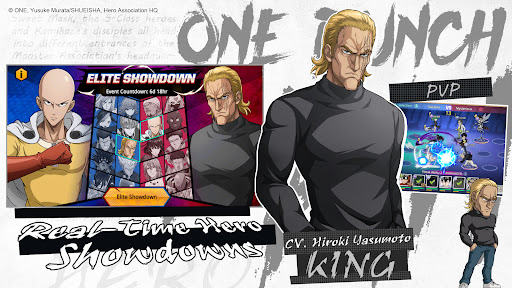 Game Features:
1.The game plunges players into an "unprecedented" disaster level, mirroring the epic challenges faced by Saitama and other heroes in the series. This immediately sets the tone for intense and high-stakes gameplay.
2.Unlike Saitama, not everyone needs to train obsessively to become strong in this game. The focus is on assembling a team of popular heroes and powerful monsters. The game encourages players to strategically collect and form teams with characters that complement each other's abilities, creating synergy for the ultimate advantage.
3.The game wouldn't be complete without epic battles and signature moves. You can experience iconic moves like Mumen Rider's Justice Crash and Puripuri Prisoner's Angel Rush. Experiment with different hero and monster combinations to create unbeatable combos, bringing the thrill of the series' battles to life.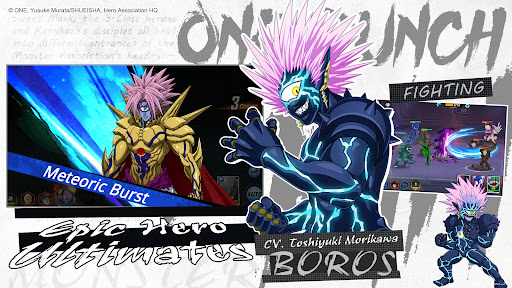 Game Highlights:
1.The more characters you collect, the merrier your team becomes. Use extra cards to level up your characters, enhancing their strength and abilities. This cooperative aspect adds depth to the game and encourages players to collect and strategize with a variety of characters.
2.One-Punch Man: Road to Hero 2.0 provides abundant offline rewards, making it a suitable game for players who can't commit to constant online play. These rewards ensure that progress is made even when you're not actively engaged in the game.
3.The game subtly promotes the idea that physical strength is not the only path to greatness. Assembling a well-balanced team and inspiring others are equally important, echoing the themes of the One-Punch Man series.
In Conclusion:
One-Punch Man: Road to Hero 2.0 is a must-play for fans of the series and a solid choice for anyone seeking an engaging and strategic mobile game. With its unique features, dynamic battles, and a thoughtful message, it's a game that can be enjoyed by a wide audience.